Assassin's Festival: Anunciada una colaboración entre Final Fantasy XV y Assassin's Creed
Square Enix y Ubisoft han anunciado una colaboración entre Final Fantasy XV y Assassin's Creed Origins.
Por medio de una publicación en su blog, Ubisoft compartió la noticia inesperada del día: Final Fantasy XV, el aclamado JRPG de Square Enix, tendrá un evento de colaboración con Assassin's Creed: Origins.
"Esta colaboración es el resultado de ser grandes fans", mencionó Ashraf Ismail, director de juegos en Ubisoft Montreal. "Hay mucho respeto entre los 2 equipos y no podríamos estar más emocionados por homenajear su trabajo".
Ubisoft asegura que ya existían pequeños easter eggs en el tráiler de presentación de Origins y en el tráiler de noviembre de 2016 de Final Fantasy 15 que adelantaban detalles de este evento.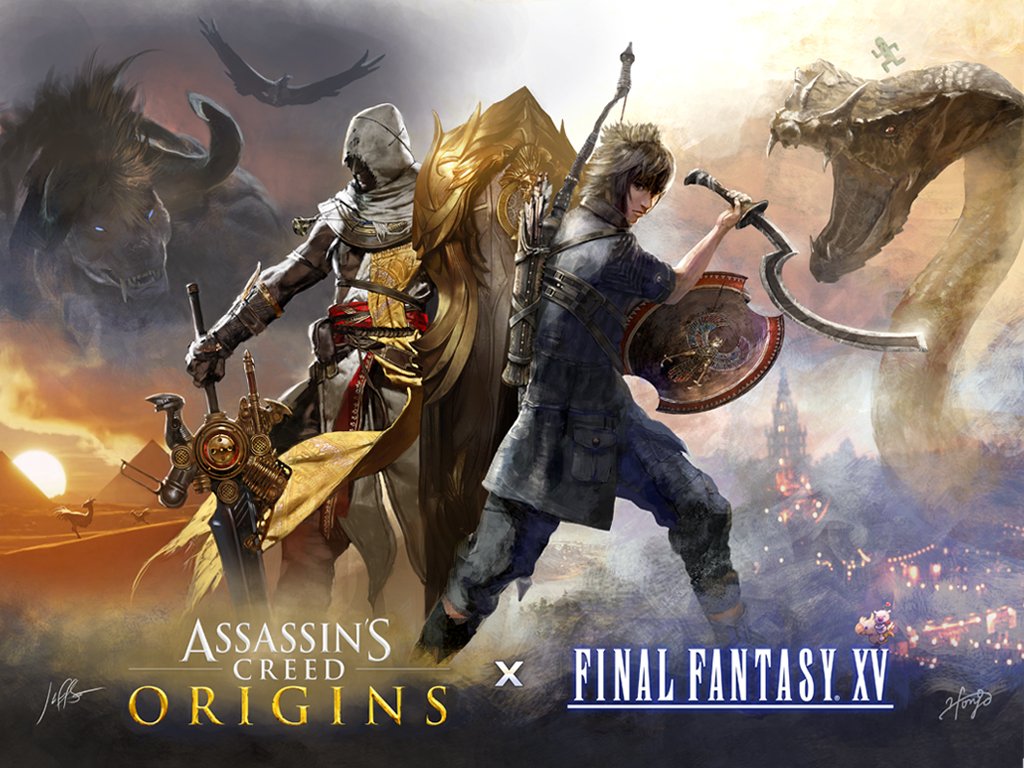 La colaboración dará comienzo el 30 de agosto, momento en el que los jugadores de 'Final Fantasy XV' que hayan obtenido el Dream Egg en el Carnaval Moguchocobo recibirán un traje de 'Assassin's Creed' para Noctis.
Posteriormente, el 31 de agosto, será lanzado el llamado Assassin's Festival para 'Final Fantasy XV' a través de un DLC gratuito.
El Assassin's Festival transformará el pueblo de Lestalium, ofreciendo actividades, items temáticos y características. Además habrá otra ropa de asesinos y la oportunidad de que el protagonista explore y haga uso de habilidades más al estilo de la franquicia de Ubisoft.
Ubisoft adelantó que ambas franquicias "se rendirán homenaje en sus respectivos universos", por lo que es muy probable que veamos algún tipo de contenido de Final Fantasy XV en Assassin's Creed: Origins.
Final Fantasy XV está disponible para PlayStation 4 y Xbox One, pero muy pronto estará disponible en PC.
Nier: Automata Game of the YoRHa Edition se dirige a PC
¿Buena o mala movida por parte de Square Enix?
El vidoejuego Nier: Automata: Game of the YoRHa Edition llegará a PC y PS4. La noticia viene por parte el portal ESRB (Entertainment Software Rating Board). Esto solo revelaron que el juego ya cuenta con una clasificación  y el porqué de ella. Los detalles de esta versión son escasos. Pero lo que los seguidores del juego están más atentos es en la correción de algunos problemas en PC.
Sinopsis:
"El futuro lejano.
Invasores de otro mundo atacan sin previo aviso, desatando un nuevo tipo de amenaza: las armas conocidas como "formas de vida de máquinas". Ante esta amenaza insuperable, la humanidad es expulsada de la Tierra y se refugia en la Luna.
El Consejo de la Humanidad organiza una resistencia de los soldados androides en un esfuerzo por recuperar su planeta. Para romper el punto muerto, la Resistencia despliega una nueva unidad de infantería Android: YoRHa.
En el desierto abandonado más abajo, la guerra entre las máquinas y los androides continúa. Una guerra que pronto revelará la verdad olvidada de este mundo".
Este juego es considerado como uno de los mejores que surgió en el 2017. Muchas quejas se han dado a conocer sobre éste en PC, mencionando que dicho puerto es un 'desastre'. En adición, no ha recibido un solo parche en la PC, aparte de una actualización para DLC que expertos indican no resolvió nada. Square Enix no ha logrado hasta ahora, desarrollar un mod que aborda muchos de los problemas del juego.
El año pasado, en junio y julio, Nvidia y AMD presentaron algunos controladores destinados a solucionar un problema. Esa fue la medida de la compatibilidad con PC. Al mismo tiempo, Square Enix dijo que estaba trabajando para solucionar más problemas con la versión Steam del juego. Se dice que esto nunca transcurrió.
El videojuego debutó  el 23 de febrero de 2017.
Boom! Command and Conquer remastered is coming!
The Command & Conquer series is getting a 4k treatment.
Vintage gamers, rejoice! Electronic Arts announced that they will be remastering the classic real-time strategy game series, Command and Conquer (C&C).
The game is getting a modern treatment for new platforms. EA confirmed Wednesday that it plans to remaster the original C&C and its prequel/sequel, Command & Conquer: Red Alert, to "4K glory" with the help of Petroglyph Games.
Petroglyph is the developer behind strategy games like Grey Goo, Star Wars: Empire at War and Guardians of Graxia.
"Today, I'm thrilled to tell you we are going to the beginning. We have decided to remaster Command & Conquer: Tiberian Dawn. And while this is incredibly exciting on its own, we're also aware of how passionate the community is about the Red Alert universe. So, we will also remaster the original Command & Conquer: Red Alert™", mentioned Jim Vessella trough the EA website.
The classic strategy game also featured some exciting expansion packs. And according to the report they will too get a remastered edition.
"But what about the classic expansion packs you may ask – Covert Ops, Counterstrike, and Aftermath? Well, C&C and Red Alert wouldn't be the same without them, so all three expansion packs will be bundled with the base games into one remastered collection – without microtransactions", Vessella concluded.
Although these are awesome news, we are still long ways away from getting a release date. Vessella concluded stating that the game has not yet started development.
The Command & Conquer series kicked off in 1995 with Westwood Studios' original real-time strategy game. EA will release a new take on the franchise, Command & Conquer: Rivals, for Android and iOS this December.
Se despide la compañía Prima Games
Luego de más de 25 años, la veterana empresa de guías de estrategia está cerrando sus puertas.
Prima Games, la legendaria compañía que realizaba guías de estrategias para juegos, estará cerrando sus puertas. El anuncio vino por parte de Publishers Lunch. Su reporte indicó que la compañía cesará operaciones para primavera de 2019.
"Durante una extensa revisión de un año, se exploraron muchas formas nuevas para diversificar la publicación de Prima Games. Sin embargo, la dinámica para nosotros de este paisaje acelerado ha seguido siendo difícil. Este equipo enormemente dedicado ha hecho todos los esfuerzos posibles para cambiar el negocio. Lamentablemente las condiciones del mercado han funcionado en su contra", indicó Ian Hudson, presidente de los libros DK.
Prima Games, que tiene oficinas en Roseville, California, así como en la ciudad de Nueva York e Indianápolis, comenzará el cierre a partir de este mes. La cede localizada en Roseville cerrará por primera vez en las próximas semanas.
Nueva York podría ser la que le siga Roseville. Por otra parte, se espera que la ubicación de Indianápolis sea la última en irse. Esto sería probablemente en marzo de 2019.
Antes de lo que hoy conocemos como internet y/o redes sociales, tuvimos Prima Games. Esta fue fundada por Rusel DeMaria y Ben Dominitz en el año 1990. Estos lanzaron libros que tenían "secretos de juegos" para sistemas como Game Boy y Sega Genesis.
Prima se expandió para enfocarse en estrategias para juegos específicos. Gracias a su éxito, a lo largo de los años, ganaron autoridad entre los jugadores por su amplia gama de guías. Prima Games se combinó con BradyGames en 2015, luego de que las editoriales Penguin y Random House se fusionaran en 2013.